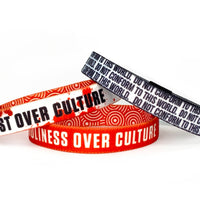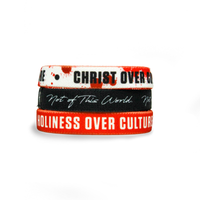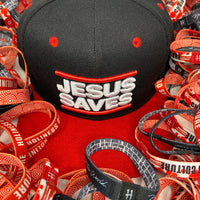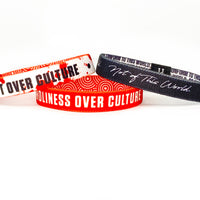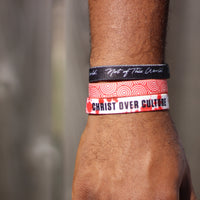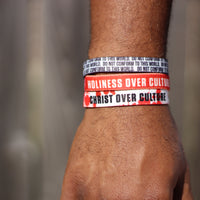 HOLINESS OVER CULTURE WRISTPACK
Description
Poly-Elastic Wristbands. Limited Edition 3Pack.
Our HOLINESS OVER CULTURE premium wristbands are a step up from the silicone one size fits all bands.
Wearing these bands declares that you have picked a side and it's Holiness over Culture. These bands signifies that you have chosen to wage war against the strategies of this world and anything that comes against the kingdom of God.
Make sure you're ready for the responsibility that comes with these bands before you purchase them because no matter what and everywhere you go its Holiness Over Culture from this day forward. 
Let's go!!
BAND #1-  HOLINESS OVER CULTURE
BAND #2- CHRIST OVER CULTURE
BAND#3 (OUTSIDE) NOT OF THIS WORLD (INSIDE) DO NOT CONFORM TO THIS WORLD
COLORS: RED/WHITE & BLACK/WHITE
SPECS:

Model is wearing L/XL bands.
The wristbands come in 1 pack and are available in 2 sizes: women, 18cm (fits most) and 20cm (larger size).
Foundational Scripture

1 Peter 1:16 says " Be ye HOLY for I am HOLY". 
Foundational Statement 
3 Nails Crucifixion, 3 Days Resurrection, 33 Age He Died & Rose
We ship in US only right now. Most of our orders go out within 24-48 hours of purchase on weekdays. Shipping generally takes 2- 5 business days from the date of shipping . Our head quarters is in Texas are central to most areas of the US.
Holy One Clothing call from God is to restore Holiness back into the kingdom. Every time you share by word of mouth. You become a vital part to the message.